ARIGOLD ELECTRIC & CONSTRUCTION INC.
Arigold Electric & Construction Inc. is a full service electrical contractor serving the Dallas-Fort Worth and surrounding metroplex regions. We provide premium service options for residential, commercial and industrial clients for a wide array of applications, from wiring new construction to complete repair and troubleshooting for lighting and circuits.
Reliable Services. Unmatched Quality.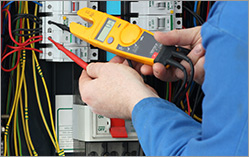 With the support of Arigold Electric & Construction Inc., no task is too large or too complex. Our experienced technicians are capable of managing and completing any electrical project, whether they start at private homes, businesses or industrial settings. Since 2003, we have brought our specializations in all things electric to clients seeking only the best in quality work and remarkable service performance.
Geared To Your Success
Our mission is to provide each client with a completed electrical project that is affordable, distinct in quality and comes with friendly, understandable service. We understand that when you seek professional work, you are expecting a commitment to a project's complete success. This is why our dedicated professionals ensure that years of experience and a motivation to precise, unparalleled quality come to your direct advantage every time.
Contact Us
To learn more about the services we provide, contact us via our web form or call us at 817-446-2460.
Quality electrical services in the cities of Fort Worth, Arlington, Irving, Plano, Garland and Dallas Texas.